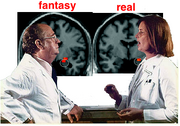 Dr. Kalderi is the director of the Ivory hospital medical imaging division. Dr. Kalderi attended medical school at the University of Michigan Medical School and also has am MBA from Drexel University.
Dr. Kalderi's staff
Edit
Dr. Marie Franz, MD, PhD - Head of the Ivory Hospital magnetic resonance imaging facility.
Ms. Tanya Jenner, MS - magnetic resonance imaging technician.
Mrs. Barbara Williams, MSN - magnetic resonance imaging nurse.
Mr. Evers Bester, BS - records management, receptionist.
Ad blocker interference detected!
Wikia is a free-to-use site that makes money from advertising. We have a modified experience for viewers using ad blockers

Wikia is not accessible if you've made further modifications. Remove the custom ad blocker rule(s) and the page will load as expected.