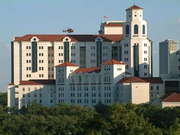 Senior Staff
Edit
Chief of Staff: Dr. Janet Scherrer
Chief Surgeon: Dr. Frank Xavier
Head, Section for Mental Health: Dr. G. Real
Hospital Manager: Dr. Arbin Kharva
Director, Medical Imaging: Dr. R. Kalderi
Head Nurse: Dr. Phen Seng.
Additional Staff
Edit
Emergency
Edit
Phone consultation with emergency staff.
Ground ambulance transportation.
Full Burn Center.
Walk-in treatment facility for Carbon monoxide poisoning and exposure to other toxins.
Social Work Services, sexual assault services.
Emergency Psychiatric Services, mobile crisis team.
Air Care Helicopter. 50-mile radius of the hospital.
House calls
Edit
Phone consultation with general practitioners
Weekly appointments in your home
Emergency house calls 24/7
You can participate in clinical research studies
Edit
In-hospital studies, as part of your treatment.
Out-patient studies. Often involve long-term studies of chronic disease. On-going studies you can join:

diabetes
Parkinsons
arthritis
obesity
alcohol addiction

Studies involving healthy adults.
Ad blocker interference detected!
Wikia is a free-to-use site that makes money from advertising. We have a modified experience for viewers using ad blockers

Wikia is not accessible if you've made further modifications. Remove the custom ad blocker rule(s) and the page will load as expected.