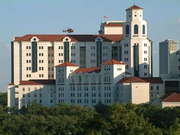 The participants at Real Life Soap naturally divide up into teams. Team Ivory is based out of Ivory Hospital (image to your right). Many of the people who work at Ivory Hospital come to the Real Life Soap Wiki for rest and recreation.
When I start to get depressed by viscious gosip about me, I go and have a chat with Dr. Real, Head of the Section for Mental Health at Ivory Hospital. Team Ivory has been involved with several major Real Life Soap Wiki projects.
Another active team at Real Life Soap Wiki is Teem Tague. Participants are free to join existing teams or start their own.
---
Scavenger Hunt short cuts:
Tour entry page | tour page 1 | tour page 2 | tour page 3 | tour page 4 | tour page 5
Ad blocker interference detected!
Wikia is a free-to-use site that makes money from advertising. We have a modified experience for viewers using ad blockers

Wikia is not accessible if you've made further modifications. Remove the custom ad blocker rule(s) and the page will load as expected.